Our Peter Lynn Cuttlefish is the best looking Cuttlefish in the sky. Buy straight from a recommended dealer or get in touch with Jenny at the factory in New Zealand at kitefactory@plk.nz
They are in hot demand but we have a few in stock at the moment looking for new aquariums to move to.
Available in hot colours (orange, yellows, red) or in cool colours (blues, purples, aquas)
Looks fantastic with the tentacles swaying in the wind and with his cheeky eyes peeping down at you, this kite is most defiantly a must for amateurs and professionals alike.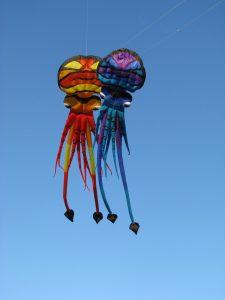 Hot and Cold Midi Cuttlefish