http://timesofindia.indiatimes.com/city/ahmedabad/Slum-boys-cut-Kiwi-stars-kite-in-Ahmedabad/articleshow/7255581.cms
Check this out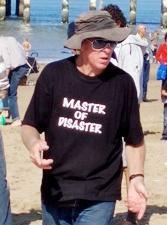 AHMEDABAD: This was Peter Lynn's 600th international kite festival. Known among the world s kite manufacturers, Lynn, from New Zealand, was flying two inflated tiger-shaped kites, each worth 400 US dollars, on the bank of the Sabarmati river, when a puny paper kite came from across the river and slashed his tigers, on Monday.
The loud music on the west bank of the river where Gujarat was hosting the 22nd international kite festival, drowned the slum dwellers screams on the opposite bank. They realised what they had done only when the police came looking for them.
Lynn shouted for help and with the festival volunteers, tried to find the boys who had cut his kite, but they disappeared. The New Zealander who has also judged one of the kite contests in this festival, told TOI, I refuse to be part of a festival where my kites are attacked by others flying with strings which has glass pieces. I have kites which are of thousands of dollar and I can't lose them to boys on other side of the river.
The Uttarayan festival in Gujarat is all about cutting each other's kites, but in this case, it was far more serious. Most foreigners brought their kites down after the incident. At least 200 kite-flyers from 36 countries and 10 Indian states are participating in the festival, flying kites shaped as dragons, angels, scavenger birds and so on.
Lynn said, this is crazy and happens no where. An Indian fighter kite attacked my tigers and before I could realise what was happening their strings entwined in my kites . One of his kites fell on the festival pavillion and another fell far away and was found only after an hour. The police went to the opposite bank and scolded the slum boys.
We stopped flying for 30 minutes and started again after the fighter kite was pulled down and the police began guarding the other bank, said Rami Al Khal, a participant from Lebanon.
Read more: Slum boys cut Kiwi star's kite in Ahmedabad – The Times of India http://timesofindia.indiatimes.com/city/ahmedabad/Slum-boys-cut-Kiwi-stars-kite-in-Ahmedabad/articleshow/7255581.cms#ixzz1Ag4DlpjW